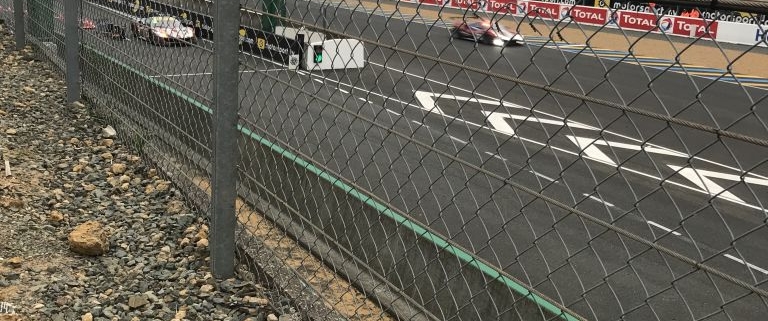 07:17 – Nyt spot
Står lige over pit exit, her har jeg aldrig været før. De har lavet en lille sti foran restauranten så man kan stå og kigge ned på at de kommer ud af pitten.
Kunne godt bruge lidt morgenmad og en kop kaffe, men der er ikke rigtig noget der er åbent endnu.
Hannemejer er ude ellers er Danskerne med endnu Jan var ikke tilfreds med at bære 7er efter natten.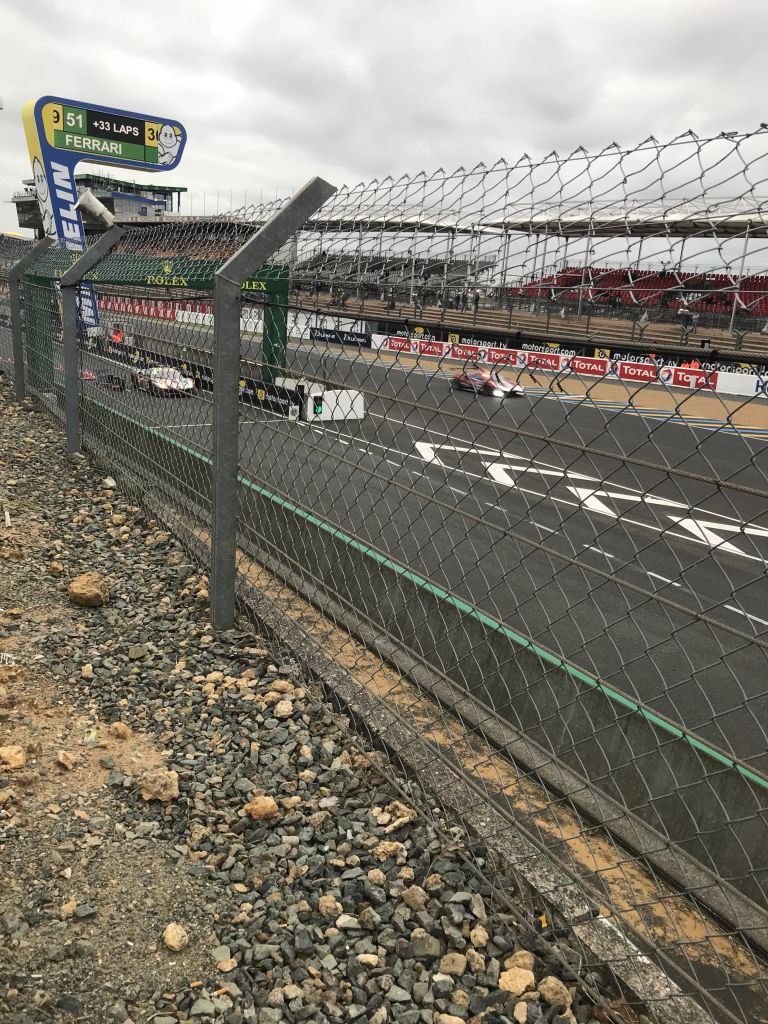 19:50 – Veloverstået løb
Løbet er slut og vi fik Michael Christensen øverst på skamlen! Jan blev 5'er og Dane Train endte 9'er i en bil der slet ikke kunne følge med. Christina blev 6'er og det var som ventet Toyota der løb med sejren.
GT Pro er stadig den bedste klasse med nogle fede kampe. Synd at Toyota kørte alene.
Så er de to nye regler elendige. Begrænset Benz/maks antal omgange tager strategi muligheder væk og belønner ikke dem der kører økonomisk. Det er jo helt skørt! Plus der var ingen der havde forstået den helt – ellers havde Toyota sq da ikke fået 2 x stop-and-go…
Lov til at arbejde mens de tankede betød at man stort set kan skifte kører og dæk så tit man vil, så der kan de kloge med den gode strategi heller ikke vinde tid længere.
Bliver meeeget spændende at se hvad det kommende 2020 relegement ender med. Lyder ikke helt godt… og forstår ikke hvorfor de ikke kigger tilbage på hvad der virkede da de fik de store producenter med i hybrid klassen. Det var en super simpel regel om maks energi forbrug pr. omgang som blev målt løbende og dermed ikke var op til debat. I og med det er de samme som lige har lavet to regler der på ingen måde taler til fans og teams kan man godt være lidt nervøs for hvad det bliver til. Heldigvis er der altid massere af action og god race så det kan næppe gå helt galt…
Lige nu sidder jeg og spiser inde i Le Mans og når jeg er færdig tager jeg hjem og pakker så jeg bare kan smide teltet i bilen og tage flugten tidligt i morgen. Trænger snart til ikke hele tiden at have 250.000 mennesker omkring mig hele tiden….
Vejret har været fint, der kom lidt regn men ikke nok til at drille bilerne… Og heldigvis havde jeg solcreme med, havde været rigtig godt hvis jeg også havde brugt det.
https://wmp.permeldgaard.com/wp-content/uploads/img_3077-1.jpg
1024
768
peme
https://wmp.permeldgaard.com/wp-content/uploads/wmp_logo-300x137.png
peme
2018-06-17 22:49:29
2018-06-17 22:49:31
LM18 – Søndag